Hi everyone,
Today I'm sharing a card I made for the blog challenges going on over at
Simon Says Stamp
and
Make the day Special
, two of the best places on the entire interweb in my opinion haha, enablers at their finest!
Make the Day Special
's challenge this month is a colour palette theme - choose your palette and make a design based around it -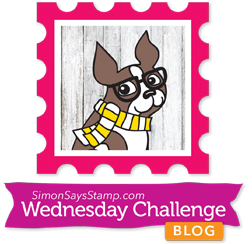 So I took option 'A' from Make the day Specials challenge, and the theme from Simon Says Stamp challenge, and this is where it took me...
I used Lawn Fawn's 'Blue Skies' stamp set and my Peerless Watercolours, and that's pretty much it. I used watercolour card and, after putting a blue wash over the background, stamped out my individual elements I wanted to use onto a separate sheet , watercoloured them and cut them out (including the teeny tiny bits where the strings attach to the basket - a test of patience for an impatient girl like my-self!). I adhered my clouds directly to the background, but added varying widths of foam tape to my balloons to give real dimension and the impression of space and distance as they float, on the summer breeze, through the sky. I finished my panel with a quick blend of Mustard Seed' Distress Ink around the edge to really create that lovely summer evening haze.
At this point, for safety reasons, I think it's fair we all ask...'hold on just one second...who on earth is piloting the balloons?'...well, I'm not sure, so my story, and I'm sticking to it, is...they are anchored to the ground with a rope we can't see, awaiting passengers, or, if there is such a thing, auto pilot :)
I stamped my sentiment, also from the Blue Skies set, onto vellum, heat embossed in white, and used Mama Elephant's 'Landscape Trio Cuts' die to make it look like it is on a rolling hill. I finished with a single enamel heart, and there you have it.
I hope you like it. As always, I'd love to read your comments so feel free to leave any :)
Until next time,
Jillxxx