Hi everyone,
I'm back with a card I have made for a couple of challenges...
The Challenge going on over the awesome
Avery Elle Challenge blog
, which this time around is a sketch...and you can find all the deets here...
And also for Simon Says Stamp's awesome
Monday Challenge
, which this week is 'Stencils and Stamps', and you can find all the deets here...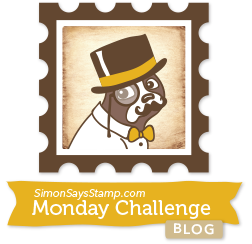 And here's what I came up with...
A Christmas card in September???!!! *facepalm* Now I'm not gonna lie, I'm not the biggest Christmas fan in all the world, and this is my first festive dalliance of the year. In fact it's fair to say I'm a wee bit of a grinch (sorry), ...but... I think this new 'Noel' stamp set from Avery Elle, could change all that!!! I fell in love the second I set eyes on it and plan on doing a load of this years Christmas cards with it...so I'm already more excited than I would normally be LOL.
I started with two different stencils, one thick chevrons from 'That Special Touch', and one with thin chevrons from 'Basic Grey', and used them both to create this background by over-lapping and inking through them with Tumbled glass, Chipped Sapphire, and Shaded Lilac Distress Inks. I then took the largest snowflake from the 'Noel' set, stamped it out using Versamark ink, and heat embossed in silver. I then stamped out my little doves of peace (awww, I LOVE this set) on a separate sheet of card, again, using Versamark ink, heat embossed in silver, and coloured them using a lilac mica powder mixed with water to create a paint. While they were drying, I stamped out my 'Noel' sentiment from, yup, you guessed it, the 'Noel' set, onto vellum, in Versmark, and this time, I used mica powders brushed over the top to create a lovely lustrey (erm, clearly not a word, Jill), shimmery look - then over stamped and heat embossed with a clear sparkle powder. I inked the edges of my card in Tumbled Glass Distress ink, and adhered my pieces to my card front, bringing my design together. I embellished with a few matching sequins to pull all my colours in, and mounted onto some yummy mint striped paper from Lawn Fawn. I finished by adding a few 'flicks' to my background using my mica paint I mixed earlier, and there you have it.
I'm pretty pleased with this card, and I'm even more pleased that I have an awesome set to make this years cards with :)
I hope you like it, as always, please feel free to tell me your thoughts.
See you next time.
Jillxxx