Hi everyone,
I'm sharing another card I have made for this weeks
Simon Says Stamp Monday Challenge
, which, this time round, is,
'Rock the Techniques'
...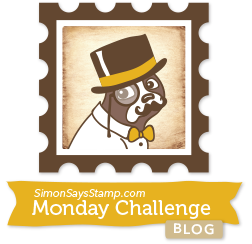 I have just discovered this ridiculously amazing product called 'Brusho', and just cannot get enough of it, so thought I would use my new found 'techniques' with that to fit the challenge theme.
And here's my card...
I really can't say how brilliant 'Brusho' is, it's these little pots of intense 'colour crystals'. that when come into contact with water, just explode with vibrant colour! I can't believe I have only just found them. I love making water colour backgrounds, and these are just beyond perfect for that. And that's how I started this card. I sprinkled a few granules (you use the teeniest amount) of my chosen colours (turquoise, yellow, orange, and scarlet) onto some watercolour card, and spritzed with water. I hope you'll agree, the effect is just tremendous! Once my background was dry, I thought it looked like a cool galaxy, so straight away reached for this awesome new stamp set from Wplus9, 'Lucky Stars'. I stamped out this superb sentiment in Versamark Ink and heat embossed using Ranger's 'Black Sparkle' powder. I also stamped out a few of the stars from the same set and heat embossed also. I added a few little silver pearl clusters using my Viva Decor 'Pearl pen' just to enhance the 'space' vibe...and that was that as I really didn't feel the card needed anything else.
So it's fair to say I am obsessed with Brusho already! I just can't wait to learn more about it and, the fun part - practise, practise, practise :)
Thanks for stopping by.
Jillxxx