Hi everyone,
Today I'm sharing a card I have made for the challenges going on over at
Mama Elephant
, (which is
'Paper piecing & Thank you cards)'
, and
Simon Says Stamp
, (which is
'Rock the Techniques'
).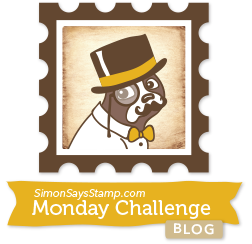 So my technique for Simon, is obviously my paper piecing for Mama, (...you with me?!), and also a technique using a new product to me...
And here is my card...
So the new product I have just discovered, and I can't believe I haven't heard of it before...BRUSHO COLOUR CRYSTALS!!! Oh my word, I have no doubt these are not a well kept secret, and that I am just late to the bus stop...but oh my...they are AMAZING!!! Like magic! They are these teeny tiny granules (about the same grain size as embossing powder), and you just shake a few (imagine like the naughty embossing powder that sticks where you don't want it too - that amount), add water to them, and they explode with colour? Ker-aaaazy I tell you! So i started with them bad boys to see where it would take me...
Unbelievable, right? My background reminded me of a beautiful summers day with the sun bleaching down from the heavens...so decided straight away I wanted to use my Mama Elephant, 'Love from Above' set, and to paper piece one of the cuuuute little cherubs, peering down from his cloud. I used Lawn Fawn's 'Into the Woods' paper pad to paper piece with, to match the vibrant colours of my background, and coloured the lovely little fella with my other new favourite purchase, my Spectrum Noir colouring pencils. My sentiment is from Hero Arts, and I thought it could fit with the stamp and the challenge theme, as in 'Thanks for being a star'...does that even make sense haha? So I stamped it out on vellum, cut into a little banner and heat embossed it in Ranger's 'Black Sparkle'. I then added a little ribbon banner, and some heat embossed stars (cut from Mama Elephant's 'Confetti' die), to embellish and balance out my card. I then added a little 'thanks' sentiment to make the message a little less cryptic haha,
And there you have it. I hope you like it and would love to read your comments.
Jillxxx