Hi everyone,
A quick post to share a card I have made for the current challenge going on over at the awesome
Simon Says Stamp Wednesday Challenge Blog
, and this time round,
'Simon Says Use Your Favourite Technique and/or Product'
.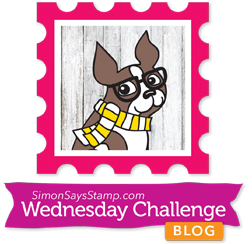 Now, I'm greedy, so I went with my Favourite EVERYTHING!!! And here's where it took me...
So, my favourite things in this delightful world of craft are - watercolour washes (especially when used with a resist), Distress Inks (especially when used as a watercolour wash), and in-laid die-cutting (especially when used with a Distress Ink water colour wash :) )
I used Neat and Tangled's 'Hello There' stamp and matching die set for my card.
I started with a piece of watercolour card, and stamped out the first line of my sentiment in clear powder, and heat embossed. I then washed over the front of my card with three different Distress Inks - Picked Raspberry, Mustard Seed, and Peacock Feathers - allowing a slight overlap of each colour to create a soft blend. once dry, I die-cut this gorgeous swirly 'Hello' from my piece, and, after adding a few layers to the back to give some dimension and to allow it to pop forward form the page, I 'in-laid' it back onto my card panel.
I used the same three Distress Inks to create splatters across my card front, and there you have it.
All my favourite products and techniques, whilst staying true to my favourite kind of design...Simple, yet bright and bold!
I really hope you like it.
Jillx