Hi everyone,
Today, I'm sharing a card I have made for a couple of fun and exciting challenges...
And you can find all the deets for each one here -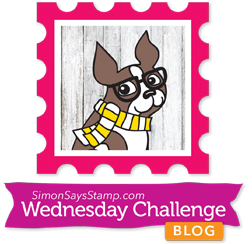 And here's my card...
I started with a piece of watercolour card, and 'washed' it using Distress Inks, (Spiced Marmalade and Seedless Preserve), misted with water, I then used a star mask and a black/purple texture paste by Creative Expressions to add interest to my background. I created my aperture by die-cutting a circle from the centre of my card base (Neenah desert storm kraft card), and my background, and framed it using a thin kraft frame over a Spellbinders, 'Eyelet Circle' die-cut. I also added a dusting of glitter to my kraft frame. My little monster is from Lawn Fawn's 'Monster Mash' set. I stamped him out twice so I could have two different colours going on either side, so when he spins in his little window, it flicks between two colours, and coloured him using promarkers. This was a new technique to me, colouring on kraft, and I've gotta say, I can't believe how vivid the colours remained on the kraft card! I then fussy cut my monsters, and sandwiched some invisible thread between them when adhereing together, and sandwiched the same thread through my layers on my card as I constructed it, so that he hangs there. My sentiment is also from Lawn Fawn's 'Monster Mash' set, and heat embossed on black card, in white powder. I added a few little ribbons and a sprinkle of gems, and there you have it. This is the first time I've done one of these 'invisible floaty' (yeah sure Jill, that's what they're called :/) cards, and I've gotta say, I'm chuffed with how it came out. I think it's really cute :)
Hope you like it.
Jillxxx